Veteran Therapy is your opportunity to receive personal support on a one-on one basis with Dr. Michael Dadson (Mike Dadson).   Dr. Michael Dadson specializes in PTSD specifically for veterans.   This can include help with anger management, addiction counselling, stress, coping, anxiety, grief, marriage/couples difficulties, trauma from active duty, or other life issues.
What are the warning signs you may be experiencing PTSD or need counselling?
Distressing memories or images of the incident.
Nightmares of the event or other frightening themes.
Flashbacks (reliving the event)
Becoming upset when reminded of the incident.
Physical symptoms, such as sweating, increased heart rate, or muscle tension when reminded of the event.
Using alcohol or drugs consistently.
Difficulty sleeping.
Quick to anger or become overly upset.
Often lost in thoughts and memories, or distracted by memories in every day life.
How does PTSD impact a veterans life?
Many people who have PTSD also have another mental health problems as a result — like depression, anxiety, alcohol and drug abuse, or thinking about harming themselves or others. It's also common to have problems at work, in relationships, or with their physical health.
Sometimes, these problems happen because of your PTSD symptoms. For example, feeling numb and avoiding places can make it hard to have good relationships with your friends and family. Getting treatment for PTSD can help you and your family move past the trauma and enjoy life.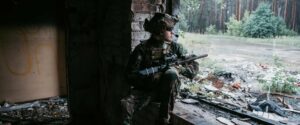 Blog
Military-related trauma and veteran status have been linked with post-traumatic stress symptoms, depressive symptoms, and other personal and interpersonal difficulties. While many treatment evaluations for
Read More »
Frequently Asked Questions